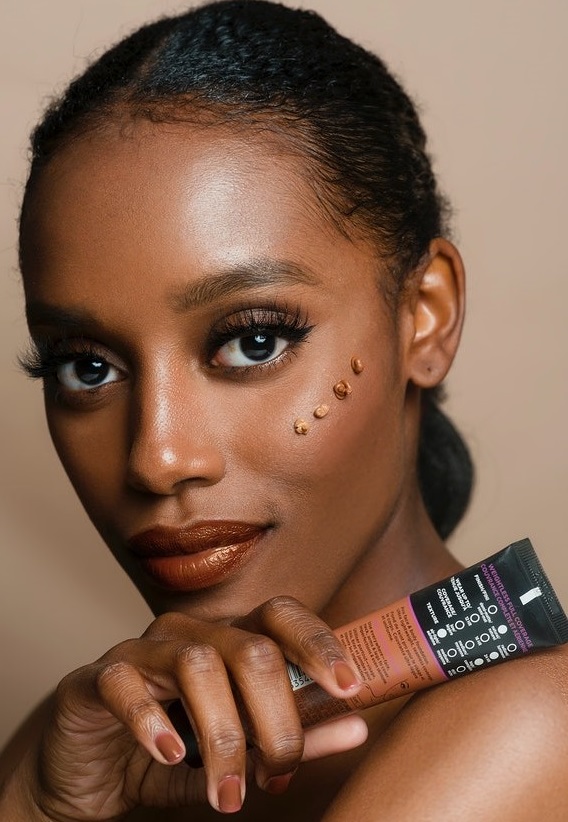 Which BB cream is right for my darker skin?
This is a question that you might have asked yourself. Furthermore, you may be wondering what BB creams are available and affordable to purchase in Australia for those with dark skin? BB cream is a great alternative to a foundation if you are seeking lighter coverage for your skin. In addition to that, BB cream often offers additional skin nourishing benefits such as hydration and protection from sun damage. With BB cream, there is no need to put on a full face of makeup. BB cream gives you that natural look while subtly evening out your skin tone. This lightweight option is quick and easy to put on, no need for a sponge or a brush – your hands do just fine. But just like foundation, there are many different brands and types of BB creams available – so which one is right for you? At Dark Elegance Cosmetics, we offer a variety of BB creams for those with dark complexions. In the following, each will be examined in depth so that you can determine which one would be the best fit for your brown skin.
Perfection BB Cream by Nicka K
This buildable medium coverage BB cream is for those who want a little more coverage, a bit closer to that of a standard foundation in terms of coverage, while not sacrificing the lightness and intensely moisturizing properties of a BB cream. This has a basic formula that feels very lightweight on the skin and will give your brown skin a semi-matte finish. Hyperpigmentation and blemishes are blurred in a very natural way giving the appearance that you are not wearing anything at all. This smells and feels like your everyday facial moisturizer – a real delight to apply and wear on your face. It also has lasting power – it will stay on all day. It comes in four different shades, all of which are available for purchase on the Dark Elegance Cosmetics site – Dark, Dark Medium, Medium, and Light- Medium. Cost:$24.95.
Fig 1. Perfect BB Cream in shade "Dark Medium" by Nicka K. A) Container is designed with a pump for easy, mess-free application. B) Dark-Medium shade applied onto skin.
True Complexion BB Cream by Black Radiance
Black Radiance has been specializing in cosmetics for dark skin tones for many years. Their True Complexion BB cream has a light coverage that is buildable and has a semi-matte finish. This BB cream focuses not only on moisturization but also on skin protection and restoration with ingredients like Palmitoyl tetrapeptide-7, which helps restore the skin and has anti-aging benefits, as well as ingredients that protect the skin from the sun's rays such as Homosalate, Octisalate, and Octocrylene. True complexion BB cream will give you a very natural appearance while giving your beautiful dark skin an amazing glow. It diminishes your blemishes, while still making it seem that your skin is product-free, in other words, it looks like your skin but less blemished. There are three shades available for purchase on the site: Café, Honey Amber, and Chocolate. Cost: $24.90.
Fig 2. True Complexion BB Cream by Black Radiance. A) Outer container B) Swatches of Chocolate, Café and Honey Amber.
L.A Girl Pro BB Cream
This has a light coverage, but buildable, bb cream that has a beautiful dewy finish. This bb clean will give your face a fresh and flawless appearance This lightweight formula is infused with vitamin C and vitamin B3 to nourish, repair, and protect your skin. Vitamin C stimulates collagen production and protects your skin while vitamin B3 hydrates your skin, improves skin elasticity, reduces hyperpigmentation, and acts as an antioxidant. This is available in 4 different shades for dark skin tones on the site: Dark, Deep, Medium-Deep, and Medium. Cost: $10.90.

Fig 3. L.A. Girl Pro bb cream.
Renewed Hope in a Jar Skin Tint by Philosophy
This skin tint packs a lot of punch in a single jar. This skin tint contains several ingredients that protect, hydrate and nourish the skin. Titanium Dioxide and Octinoxate act as a sunscreen protecting your skin from early aging, SPF20. Enantia chloratha bark extract is antibacterial and helps to prevent acne breakouts by reducing sebum secretion. Enantia chloratha bark also reduces pore size and alleviates inflammation. Evodia rutaecarpa extract is an anti-inflammatory that soothes skin irritation and sensitive skin. It reduces how sensitive the skin is to pollution. Also, this ingredient gives your brown skin a luminous, radiant glow. In addition, this skin tint's formula contains ingredients that will hydrate and plump your skin, give you lasting hydration all day. This tint is definitely for you if you want to go all out to pamper and treat your skin to the max. Price: $50.90.
Fig 4. Renewed Hope in a Jar Skin Tint.